All news
April 11, 2022
F@IMP Media Festivals 2021 and 2022 merged: Call for submissions Event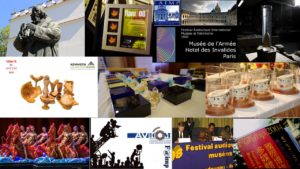 F@IMP Festivals 2021 and 2022 will be merged! 
Call for submissions
The International Media Festival F@IMP (Festival of Audiovisual and Innovative Museum Media Productions) and its accompanying conference has evolved from the original FIAMP Festival (Festival International de l'Audiovisuel du Multimédia sur le Patrimoine) launched over two decades ago by AVICOM. This event aims to encourage and recognize the production and distribution of audiovisual media (audio, film) and innovative multimedia technologies (websites, interactive programs, mobile applications and creative and interpretive exhibition installations) initiated or produced by museums or heritage and cultural institutions throughout the world.AVICOM now invites you to participate in the F@IMP Festival 2021-2022.
From 15 April to 31 May 2022, midnight (CET), you can submit entries (websites, applications, films, social media presentations…) produced in 2021 and 2022 via the festival website https://faimpavicom.org.
When judging the entries, the jury will be guided primarily by the following aspects:
– Consistently comprehensible, scientifically sound reference to a museum/exhibition theme
– Efficiency and sustainability in terms of reaching target groups/a specific target group (aspects: Animation, education and transfer of knowledge, cooperation with target groups in museum work).
Low-budget productions and productions by museums with low financial resources are expressly welcome as entrants to the festival.
If you have a problem registering or uploading via the website, please contact AVICOM. We will be glad to provide any assistance required.
Please note: By submitting the contributions, AVICOM is expressly granted permission to publish these contributions on its website and on its social media. In addition, the contributors grant AVICOM the right to make the contributions available to third parties for the purpose of providing information about the F@IMP Festival and to have them edited and distributed online.
The Festival 2021-2022 Award Ceremony will be held during the 26th General Conference of ICOM in Prague at Thursday, 28 August 2022. The entire program will be published on faimpavicom.org and on the AVICOM website avicom.mini.icom.museum.
AVICOM would like to encourage you to take part in this festival and is looking forward to a large number of interesting best practice contributions.
For queries please contact:
Ildikó Fejes, Treasurer of AVICOM