Inclusion and accessibility in museums. Technologies and social media as tools to reduce barriers and to promote the inclusion of different parts of society. Reports from the tandem-workshop AVICOM & Museu Nacional / UFRJ Rio de Janeiro
The question of which digital technologies and which social media can be used to overcome barriers and involve diverse groups of society in museum work was the topic of a tandem workshop between AVICOM and the Museu Nacional in Rio de Janeiro in August 2021.
The background to this workshop is the reconstruction of the Museu Nacional, which burned down completely in 2018 and lost an estimated 90% of its collections in the fire. The reconstruction offers a unique opportunity to involve the public already in the conceptual planning and building of the collections. This is not least about the inclusion of indigenous cultures, the population in the favelas, but also people with specific physical and mental needs.
The tandem workshop, this was also unique, was essentially co-designed by representatives of these target groups. The contributions were not only translated simultaneously, but also into sign language.
The results have been incorporated into the Museu Nacional conference to be held in June 2022.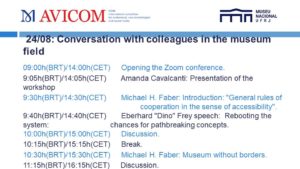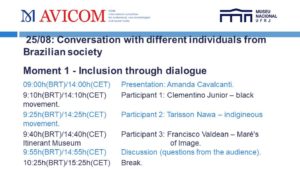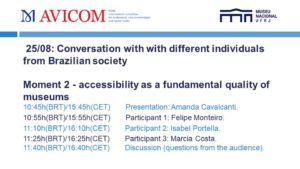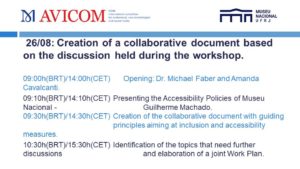 Museum without Borders: Can Media help?
Michael H. Faber
Dear Colleagues,
In my contribution I would like to go into the possibilities which the media offer us, in order on the one hand to actively include the public in the design and arrangement of the museum, and on the other to make the museum open and accessible to everyone. It is a question of how the media can help us to overcome barriers and to equally include people with different social and cultural affiliation and education, as well as people with particular psychic or mental impairment.
Of course I can only give impulses. In addition I know neither the situation of the National Museum and its financial and personnel possibilities to put measures in place, nor do I know the conditions in the country with their effects on the practicality of such measures. Therefore some of the thoughts or suggestions which I will present might sound somewhat weird, strange or even absurd – and I apologise for them now. However, perhaps weird and absurd seeming ideas can stimulate thoughts.
In any event I will be pleased if my contribution has a stimulating effect – above all for the workshop in the next two days.
Dear colleagues, when we speak about the use of media in the context of museum work, then we are talking about a very wide field of deployment which is initially going to overwhelm us.
Therefore we must basically reflect critically on the possibilities of use in specific working areas. We must critically judge what makes sense and what does not. We have to weigh up what is absolutely necessary and what is lower ranking or even superfluous.
We also have to reflect on which target groups we want to reach with media. In the process we must differentiate whether we wish to communicate with a target group one-dimensionally or in a dialogue, actively or interactively. We will establish that not every medium is suitable in every context for every target group. But we can design and arrange media in such a way that they are used by different target groups with varying prerequisites with regard to education, cultural provenance, or affiliation, receptive ability and physical ability, who can possibly even be actively served. And that in my opinion is what this workshop is all about. Although in three days we will not find a solution for everything.
We want to hold this workshop in an interactive, cooperative way, at the same eye-level with representatives of groups with varying needs, or rather with actors who cooperate in cultural areas with people with different needs. With this workshop we want to invite those representatives and actors to articulate their needs and expectations, to bring their experience, ideas and suggestions to bear. Thereby we are undertaking the first big step on the long way, doubtless strewn with stones to stumble over, to the inclusion of everyone in museum work.
This workshop, marked by the cooperation with different target groups, is unique in my opinion. At this point I would like to thank all those who prepared this workshop and who organized it together. But I also want this workshop to be publicized, that the public learn what milestones the National Museum sets with this workshop and the measures resulting from it.
"Do good works and talk about it" we say in Germany. And that should also happen with regard to all the measures of the National Museum. And for that we need the media.
Media essentially mean the use of the digital. The digital is in turn diverse in its uses. Here we think of websites and also for some time of Social Media, when this is generally about communication, marketing and advertising, about imparting knowledge and informing about museum contents, exhibits, and so forth. We think of the use of media in museum presentations, in exhibitions, for instance in the form of media stations and audioguides. Here media can give an exhibition more variety, they can contribute to a more aware reception of the exhibits and animate visitors to interactive discovery. Media can illustrate, make the invisible visible, virtually reconstruct fragmentary exhibits, from fossil objects to artifacts, complete them and bring them back to life. Media can show actions so that the static object is placed in its functional context (as for example with an exhibited machine, tool..) and much more.
We also think of using media in the context of the digitalization of objects and entire collections, of the creation of digital databases for the use of science and the wider public. The use of the digital in museums can meanwhile go even further; it can serve electronic marketing, the e-commerce in products from the museum shop, e-publishing  or the sale of electronic admission tickets – the last of which, incidentally, has proved its worth in times of the pandemic as an instrument to control the daily allowed number of visitors, accordingly the possibility of e-ticketing has been incorporated into many museums' websites.
With such digital tools, with electronic databases, with media installations in exhibitions and digital guides for exhibitions, museums create their digital rooms, which they can control themselves.  Things look different with social media, with publicly designable channels like Youtube and suchlike information portals, co-designed with third parties, such as Wikipedia, Wikimedia as well as travel platforms like Tripadvisor, on which museums find themselves again.  Whatever is posted there is not controllable by the museum. The museum merely has the possibility of reacting, of making a statement in this non-controllable space. The museum's own website is also leaving the controllable space if it offers the possibility of interactive communication via posts and thereby goes a step closer to becoming a social medium itself. From my point of view this should be seriously considered.
When we are made aware of the diverse possibilities of using the digital, the digitalization of the museums, then we must, as I said at the beginning, decide critically what is of prime importance, what is lower ranking or what we can do well without. We have to develop a "Digital Strategy", which does not replace the analog in the museum, but substitute it. Thereby we should be clear about the facts that
Digital Strategies can and should be planned in small steps
Digitalization may start revolutionay, but occurs in an evolutionary way
Digitalization is not a one-off project, but an ongoing situation. However, this in turn does not mean that we have to work more and more. Digitalization means acting reflectively with a clear view of target groups and aims.
We have to differentiate between our "Duty" (what we are obliged to do) and the "Optional" (what we may choose to do).  1)
Let me anticipate the term "optional":  the digitalization of the collection of objects, its networking with external collection and education portals is an optional choice. Also the development of digital exhibition formats is an optional choice. The Museum-App, which is nothing other than a digital guide through an exhibition, is not only optional, but also simply superfluous if such a guide can be offered in another way, for instance based on the website. Years ago all over the world of production companies such apps were extolled as "must haves", but in the end they only meant that money flowed into the pockets of those companies. It has been proven that they did not enhance the attractiveness of museums nor increase the number of visitors. Meanwhile we have recognized that such museumsapps have had their day; for the money we can hire trained staff to look after visitors during their stay in the museum – analog, personal, human, paying attention to specific needs.
But what is our duty?
A stand-alone, professionally designed website is one requirement of an obligatory program. It is the digital showpiece of the museum. Accordingly, it must at first reflect the museum, its "entrepreneurial philosophy", tasks and objectives exactly and unambiguously and thereby "identify" the museum.  It should also include up-to-date information about current developments in the museum's structure and extension. What is more, the website serves as a platform for information – about current events such as special exhibitions, topical research projects and pedagogical offers. Additionally, the website must contain – and at first sight – the direct link to all the essential information in preparation for the visit and how to use the museum.
Beyond accessibility, opening hours and admission prices, comes barrier relevant information about the infrastructure; from the car-park for the disabled in front of the museum to the automatically opening doors, guidance systems and tactile infos, lifts, toilets for the disabled, nappy-changing tables and hygienic fittings for the incontinent, benches and tables at which wheelchair users can sit in the museum's gastronomy and so on. The website must inform about mediation on offer, which fulfills the prerequisites and needs of very different target groups. One must be able to find all this information at first sight of the website, not after clicks through several sub-menus. Here I would like to mention: the duty of a website must also include, without extensive "leafing" through the website, all the important contact people with direct listing of telephone numbers and e-mail addresses – starting with the museum directorate and ending with visitor service. Regarding the practice of providing a general form, popular on museum websites, which does not contain the address of the recipient and prevents making contact with an employee, I find it unacceptable.
The website in its concept, design, edited content and programming, should orient itself to international standards for barrier freedom, which have meanwhile become established. These are the so-called "Web Content Accessibility Guidelines" (WCAG). 1) Not only for websites, but also in general for web-offers they set the norms for as barrier-free a lay-out as possible. I recommend that all museums  should take a look at this WCAG before planning any digital presence.
In order to show what a barrier-free museum-website can look like, how it can make visitors aware of the diverse barrier-free ways of finding their way around the museum, I would like to present the example of the Berlinische Galerie, a museum of modern art, photography and architecture in Berlin:
At first sight there is a recognizable overview, laid out in clear and extensively large script on a high-contrast website. In the first menu-bar on the landing-page the design of the website can be adapted to the needs of the user: by choosing the script size and adjusting the contrast of the whole website from a white to a black background. Moreover, from this menu-bar one can move directly to information in "easy language", or in sign language. It is here that the gallery introduces itself and presents current special exhibitions.
The website contains an English version, which is comparable to the German version in its structure, barrier-free design, as well as regards the information about barrier-free offers.  Barrier-free analog offers in the museum, as we learn in the English version, are also aimed at anglophone visitors. However, the options of "easy language" and "sign language" are only available in German.
In the second menu-bar of the landing page, if you click on "Visit", you will immediately move to the sub-menu "Accessible Museum" with the following declaration of principles: "The Berlinische Galerie takes the right to equal participation in cultural life seriously and is actively promoting the process towards becoming an accessible, inclusive museum." Sub-menus lead to information and offers for Visitors with impaired mobility, Visitors with impaired vision, offers in German Sign Language and to the Inclusive education program.
I would like to present the texts of the information on this page to you:
1) "The Berlinische Galerie is accessible to visitors with impaired mobility. The museum building itself, all the exhibition and event spaces, and Café Dix can be accessed without barriers in a wheelchair. The entrance to the museum is on ground level. You will find a power-assisted door in the glass façade about 5 meters to the right of the main door.
The temporary exhibitions are displayed on the ground floor. The exhibition rooms on the upper floor can be reached by a lift that also accommodates wheelchairs. There is a disabled-access toilet by the cloakroom in the museum foyer. This door is opened by pressing a button."
2) "A tactile floor guidance system provides orientation for partially sighted and blind visitors. It consists of double-strip line markings with attention fields for museum features such as the ticket counter, cloakroom, lift, toilets and permanent exhibition space on the upper floor. A tactile plan can be borrowed at the ticket counter. We also offer an inclusive audioguide which includes audio contributions, exhibition texts and reproductions of 17 highlights from the collection. The guide is available as an app and can be downloaded free of charge from the App Store for Apple iOS or the Google Play Store for Android. The app automatically triggers audio pointers that help the blind and visually impaired to move around the exhibition independently. There is also a Web version of the app that you can open in your browser here .
Seven major works in the current selection from the permanent collection can be explored by touch. Touch models made of different materials like felt, textiles and wood convey a three-dimensional, material impression of the original.
Guided touch tours to both the permanent and temporary exhibitions take place regularly.
Guide dogs for the blind are allowed in the museum. Mobile seating and two folding wheelchairs can be borrowed free of charge from the cloakroom."
Here you can also find up-to-date information about pandemic-related restrictions on offers:
"Please note: We have removed the tactile models for now to meet the current hygiene requirements. Furthermore we are currently not lending out audio guide devices and tactile museum maps. You can take the audio tour through our permanent exhibition by downloading our app onto your smartphone or tablet. Thank you for your understanding!"
The Website reports on the Education Programme:
"We run regular tours of our exhibitions for people with disabilities. The programme includes touch tours, tours with or in German Sign Language and tours for people with learning difficulties. Some of our events are inclusively designed and are explicitly aimed at people with and without disabilities."
I would like to elaborate on the inclusive audio-guide to works of art for sighted as well as visually impaired and blind people, which is offered on the website as an app to download, also available as a web-version – although unfortunately only in German at present. The audioguide comprises audio contributions, exhibition texts and illustrations of 17 works of art which belong to the highlights of the collection. Along with art and contemporary information, the audioguide offers blind and partially sighted visitors picture descriptions which give a presentation of the original work of art. Moreover, orientation tips enable an independent visit of the exhibition, in combination with the tactile floor guidance system. By means of automatic triggering the information is played at all stations without having to enter a number or use a key-pad. In this way blind and visually impaired people are offered interactive, barrier-free access to the collection of the Berlinische Galerie.
How does one operate the audioguide? After a general acoustic introduction one can select the tour for "sighted or "blind/visually impaired" visitors.
While the version for sighted visitors only contains a general description of respective works of art, the version for Visually Impaired users includes the following menu points for every work of art: 1) title of the work, 2) description of the work, e.g. size, material, style of painting, artist and what is to be seen in the picture in detail, 3) historical-societal background of the work of art and 4) instructions for viewing the artwork as well as other works in the exhibition by using the "guidance strips" and "attention-fields" for the orientation of blind and visually impaired visitors.
From my point of view this is a very good example of a barrier-free website of a museum, which also sets an analog example for barrier freedom. But now I would like to return to the digital "Duty program" of a museum. Part of the digital duty program is serving Social Media – for general dialogue, for dialogue with target groups and for dialogue with partners. Social Media should be used primarily for the areas of information (e.g. about new museum developments, measures and offers) and (thereby) as a marketing instrument of the museum. Social Media are eminently suitable for creating digital partnerships, respective communities, in order to identify mutual interests, define objectives, initiate processes and carry them out.
Which partnerships and communities could these be? For instance communities of people with special physical, psychic and cognitive needs – here is a consideration whether to form  special communities according to the type of needs or, in the sense of comprehensive inclusion, a common community, in which everyone, regardless of their personal needs, communicates with the museum. Meanwhile there are many tools for an inclusive use of Social Media Portals, like Facebook, which offers barrier-free use, whereby a posted picture, by means of a processing program, can have an alternative text entered. Moreover, Facebook offers operating advice, in order to render contents acoustically. WhatsApp contents can also be read aloud. There is a whole range of screenreader-tools, which can convey the posted contents to blind and visually impaired users.
The creation of Social Media Communities helps to realize common content-programmed objectives of the museum. Examples: the Community of Contemporary Witnesses, which supports the museum in creating a contemporary historical collection, documentation and exhibition by means of interviews, accounts of experiences and events, and providing realia such as documents, photographs and objects. Here sub-communities can also be created: perhaps a community which represents the interests of favela residents, youths in the favelas, or one in which representatives of tribes of the indigenous population communicate with the museum.
Not all available Social Media channels need be used, it is more effective to concentrate on specific channels, or perhaps even just one at first. The spectrum of the social networks is, as we know, very broad and colourful. The spectrum ranges from the general large networks such as Facebook and Co., in which communication by text, picture and video can be detailed – and this, as I've already said, barrier-free – to blogs like Twitter and Instagram, which are used as a kind of diary. It stretches from forums as virtual places for the exchange of experiences and opinions, as far as the so-called Content Communities like Youtube, in which certain audiovisual formats are exchanged.
It is worth checking exactly which digital channel is the most suitable for dialogue with the target group. Barrier freedom is an important criterium here. Checking will lead to the result that using the big general networks has absolute priority over the use of blogs, forums and Content Communities.
But also in response to the question which of the big social networks has priority, a decision must be made, if not in the beginning for reasons of time, when even one might be used exclusively.
Possibly an Instant Messaging Tool like Whatsapp or Signal might be a good means of communication, even preferred by the number of members for a defined manageable community. Bearing in mind the use of end-devices this is possibly the only sensible way, or rather practicable one. I can well imagine that everyone in the Favelas has a Smartphone, but hardly anyone owns a laptop or a computer. It is probably the same for the people who live isolated in the Amazon. In museums – at least those museums I know in Germany – Instant Messaging is still uncommon. I suppose that it is no different in Brazil. Taking into account the reachability of certain target groups we should also make use of such communication tools.
The decision for a social medium is therefore dependent on its availability and the willingness to use it by the target groups, and hence also a question of the available hardware = end-devices.
The decision for a certain Social Media Tool must ultimately be made with a view to the efficient operation of the selected media, or chosen medium. Because, no matter whether  Facebook or Signal: communication in such media is so speedy as no other means of communication, and with Instant Messaging there is also rapid direct addressing, mostly combined with the expectation of a fast response. No matter which Social Media we use: our reaction times will have to remain short. We are going to have to constantly use and serve these media, guide and control them. If that does not happen, then in some circumstances the reputation of the museum can be jeopardized. Accordingly, the care and control of what is communicated becomes an indispensable task.
And this must be taken on by someone in the museum, authorized by the museum as a quasi "digital spokesperson". However, when it concerns the communication of themes and topics covered by the contents of the museum –for instance the documentation, collection of objects and exhibition within the framework of contemporary history or societal groups (tribes, social groups) – then it makes sense that a curator from the museum who is acquainted with the topic should function as a "spokesperson".
If a museum attracts public interest – and that is what we dearly wish for the new National Museum – it can be expected that Social Media Forums will be used in order to comment on the activities of the museum. The public, museum visitors, Friends of the Museum from its association of members, interest groups, journalists, possibly also representatives from politics, can make use of such forums, in order to report on their own experience with the museum, and to critically judge developments in the running of the museum, in some circumstances even to condemn them. Critical comments on the running of the museum range from forums and blogs, on Twitter and Instagram as far as the travel appraisal portal Tripadvisor, as well as including digital communities about which the museum has previously known nothing at all. This also requires continual observation and control by the museum, or rather by the spokesperson authorized by the museum. Ideally this should be done every day, meaning that working hours have to be calculated and reserved for the purpose.
Communicate all effective public relations measures efficiently.
Everything that you and your museum do for the preservation of cultural heritage and conveying it to the general public needs to have public communication which is up to date.
It is about positioning the museum with its special characteristics in the public mind, gaining target groups and binding them. But ultimately it is also about informing the world of museums, or rather its scientific experts, with the aim of dialogue, mutual support and fruitful exchanges.
Public communication also serves to convey facts – for instance vis à vis societal groups or political committees which might view the museum's work critically. If, for example representatives of indigenous cultures are included in museum work, perhaps in an exhibition which deals critically with the problematic history and present ethnic and socio-cultural diversity in Brazil, or the history and present treatment of natural resources. Such an exhibition might not be to the taste of a politician or businessman who is interested in the exploitation of the tropical rainforest. But please do it regardless of them ! Document and convey the facts – checked as correct. Describe in your communication various views and positions, and speak out as a museum informing and weighing up the facts. Position yourselves as the museum which is independent and neutral, and as a public cultural and educational institution, which in compliance with UN Declarations must not be thwarted, as well as in compliance with the Declaration on the Rights of Indigenous Peoples of 2007.
How can public communication be efficiently designed?
1) Communicate regularly. Report regularly on developments in the context of the restoration of your museum, report on substantial decisions and measures in that context. Even if the reopening of your museum still lies far in the future; communicate about it now! Perhaps once a week. That is the only way to remain in the public eye.
2) Use all the necessary communication tools: the press Information, sent by e-mail, is equally important as placing information in the Social Media portal chosen by you and placing it in an electronic newsletter, which you send at regular intervals to the friends and supporters of the museum. Of course the same information must also appear on your website, whereby you should not make the mistake of placing the information on a subordinate page under "Press". The information must already appear on the main page of your website – at least as a headline, a short text and a link to the full text. Also use mobile phone networks via which target groups are connected, for the distribution of your news.
3) Send your news to all institutions with whom you cooperate and conduct exchanges; to ICOM Brazil, the  ICOM Regional Alliance of Latin America & Caribbean Countries, to ICOM General Secretariat, to International ICOM-committees which are relevant for you, to natural history museums in the world with whom you cooperate, to interested representatives of the target groups with whom you cooperate, to sponsors…
4) If you wish to efficiently use the museum's own digital media for communication and cooperative work with the public and here with specific target groups, you first of all have to inform the public and the target groups of the existence of these media. If for instance you design your website formally with regard to content, e.g. reducing barriers, you can provide information about it via e-mail and social media posting from a respective press release. Do not leave it to chance whether your digital media will be discovered!
However, how can one inform people in Favelas about the fact that the museum would like to include them in museum work?
I cannot judge whether these people read a newspaper in which your relevant press release may have been printed, or if they are aware of radio and television news which report on the museum's development. I would guess that either yourselves, or "mediators" chosen by you but who come from a Favela themselves, should have to go into the Favelas to appeal to people to join in the work. It might make sense to invite people to information events in Favela schools, or meeting places, social centres or also in the club-houses of football clubs or samba schools. I can imagine that for the promotion of cooperation with Favela residents, analog advertising with leaflets and posters would be much more efficient than an attempt to reach the population in a digital way.
At such information events you can introduce digital communication tools, or agree together with the target group on which you would like to use for cooperative work with the residents. Smartphone media are already known, even to the Favela population such as WhatsApp or other messengers, or you can opt together for other tools which are better known and trusted by the population.
But how can you generate enthusiasm for integrative museum work among people who may show hardly any affinity for museums ? We probably need a "Catcher" which fascinates people, or better said casts a spell over a certain target group, like the Favela children. For example, could the dinosaur from the museum collection be the Catcher? It could be given a popular name like Miguel, and given flesh and skin virtually as it walks through the Favela and meets the children as a friend. First on posters and leaflets, perhaps with the appearance of a little Miguel in a puppet theatre, or in a bit bigger form of a costumed protagonist? Maybe by means of a simple but thrilling animation video?
Here it might make sense to produce an app for a smartphone if there is money available for it – the Virtual Reality-App, which incidentally could generate enthusiasm in non-Favela children as well. Combined with an interactive game, in which the players meet each other, it could bring together children from different social conditions to write, draw and paint the history and stories all about Miguel the dinosaur for an exhibition.
Or do we want to lend our museum's ears to older Favela residents? Let us listen to the stories of their lives, telling us about their way of life and record them digitally – for the contemporary history story-telling collection of the new museum, which could serve as the basis of a thematic exhibition. Let us allow these residents to give something to the museum which is or was of crucial importance for their modest well-being, for their quality of life and coping strategies. A football which they used to kick around a narrow space between the dwellings in the hope of one day becoming as famous as Pelé, or a little cage in which the bird twitters happily when everything else seems hopeless? Shall we film a video about it – for the collection, for the report via Facebook and Website, for a later exhibition? And let us make the video accessible to the protagonists: via Whatsapp or Signal!
Would similar cooperative work with members of indigenous cultures be thinkable? Not only with representatives of their interests, who live in cities and have long since been assimilated into the non-indigenous population, but actually with people who live in almost inaccessible areas of the Amazonian rainforest. Their contact with "strangers" is rare and when it happens usually bodes ill for them.
To overcome the enormous distances and barriers to these people might be the greatest challenge for the new National Museum.
Overcoming the spatial, geographical distance, overcoming language barriers, overcoming the misunderstanding of completely contrary ways of living and legality, overcoming the lack of understanding for different forms of behaviour and rites…It would be an enormous challenge to convey the meaning of their culture for a museum documentation, to convince these people, whose contact with – let us say "whites" – has frequently caused suffering, persecution, exploitation, infection with diseases, etc.
From my point of view it would be appropriate to honour the participation of contemporary witnesses and protagonists, who conveyed such cultural and contemporary historical value in knowledge, experience and testimony, in whatever form is the right one.
I would like to come to a conclusion. The digital can help museums to overcome barriers of various kinds. Thereby we have to deal in a confident, sovereign way with the digital and weigh up what is more economical and efficient: investment in a digital format or the analog use of human resources. We should always remember that the digital does not replace the analog, but can support it. Ultimately digital sovereignty means knowing when it makes more sense to work in analog mode. Only then will we be well on the way to making a museum without borders!
1) Cf. Christian Gries: Digitale Strategien für Museen. https://www.museen-in-bayern.de/die-landesstelle/beratungundservice/projekte/standard-titel/digitale-strategien.html?L=0
2) https://en.wikipedia.org/wiki/Web_Content_Accessibility_Guidelines
Digital strategy as part of an overall strategy of the museum under the aspects of inclusion and accessibility
Michael H. Faber
1) Team building:
1.1) From all essential areas of responsibility of the museum (collection, research, documentation, exhibitions, events, education, communication and marketing)
1.2) External professionals:
Stakeholders / Experts of the various interest groups (disabled people, favela people, indigenous people, children, old people …)
Who is responsible for the team?
– Team leader from the museum
– Co-leaders from the circle of interest groups
2) Working method:
Establishing the rhythm of work meetings
Definition of the type and manner of working meetings (virtual / online, physical)
Joint definition of the work steps and time goals
Precise definition of streams for the respective work steps
3) First basic work steps:
3.1) Joint evaluation of the results of the workshop and definition of desiderata
3.2) Review of existing media used (website, social media, e-newsletter …) with regard to their content and formal quality / suitability according to the UN declarations and the resulting international accessibility standards as well as the results / desiderata of the workshop
3.3) Corresponding relaunch of the existing and used media
3.4) Public communication of the relaunch (press release …)
4) Further work steps:
4.1.) Analysis of suitable communication channels and means of communication
4.1.1) Analysis of the recent situation of the possibilities of communication with individual target groups
Analysis of communication (technical, methodological, content-related) with "hard-to-reach target groups" (e.g. indigenous tribes).
Analysis of the possibilities of reaching target groups using certain media tools (computer or smartphone? Website or WhatsApp …?). This analysis relates to both the technical infrastructure (e.g. expansion of the cellular network into the Amazon region / permanent function of the infrastructure) as well as the equipment with means of communication and, last but not least, the usage behavior of digital tools by the addressees.
4.1.2) Elaboration of solutions: Can the museum contribute to the elimination of technical problems for the addressees, and how? For example: Does it make sense to provide key persons of indigenous tribes with a communication tool free of charge?
4.2) Persuasion / motivation of target groups with little or no affinity for museums
4.2.1) Analysis of deficits and derivation of desiderata
4.2.2) Development of topics to motivate the target groups on the basis of museum wishes and target group-specific needs and expectations
(Why is the museum interested in me, my life, my culture? Does the museum want to show my life and my culture and why?
Or can I, can my people benefit from the cooperation with the museum?)
4.2.3) Development of strategies for motivation and testing through a pilot project
4.2.4) Review of the success / failure of the pilot project – together with the partner. Development of solutions
5) Determination of the importance of individual media measures based on the experience gained. Thereupon definition of the Order and assessment of the likely scope (time, personnel, financial …) of the respective measure – initially:
Assessment of the continuous effort for each measure.
6) To develop from the results for all measures:
6.1) Budget plan
6.2) Personnel plan
6.3) "Technical and operational rider"
6.4) Permanent system of success control and correction of measures
Reports:
Museu di Imagem
Francisco Valdean
Museu da Republica
Isabel Portella