International Media Festival f@imp 2021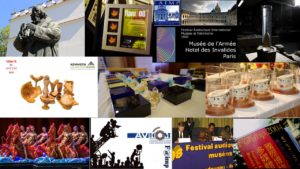 The International Media Festival F@IMP 2.0 (Festival of Audiovisual International Multimedia Patrimony) and its accompanying conference has evolved from the original FIAMP Festival (Festival International de l'Audiovisuel du Multimédia sur le Patrimoine) launched over two decades ago by AVICOM. This event aims to encourage and recognize the production and distribution of audiovisual media (audio, film and video) and innovative multimedia technologies (websites, interactive programs, mobile applications and creative and interpretive exhibition installations) initiated or produced by museums or heritage and cultural institutions throughout the world.
Related to the International Museum Day 2021, AVICOM opened this year's International Media Festival of Audiovisual International Multimedia Patrimony f@imp 2021 under the motto "Museums: Inspiring the Future" on 18 May. AVICOM is soliciting films, online applications or other media on this topic.
In recognition of the pandemic-related major challenges that museums have to face, there will be a special edition of the media festival this year with just one special topic:
"Museums, Media and Future: How do closed museums open up to the public, using media?"
Low-budget productions and productions by museums with little financial resources are also expressly welcome as entrants to the festival. The jury would like to place greater emphasis on the efficiency and effectiveness of media in reaching, animating and educating audiences, rather than how artistically and dramaturgically they are designed!
Good examples can now be submitted for entry into the festival: websites, applications, films, social media presentations…  The productions are to be uploaded directly to the festival website http://faimpavicom.org. as in previous years.
If the applicants have a problem registering or uploading via the website, please contact AVICOM. We will be glad to provide any assistance required.
In view of the current difficult economic situation in many museums, participation in this year's festival is free!
The competition is open until 30 September, 2021.
AVICOM would like to encourage you to take part in this festival and is looking forward to a large number of interesting best practice contributions.
Please note: By submitting the contributions, AVICOM is expressly granted permission to publish these contributions on its website and on its social media. In addition, the contributors grant AVICOM the right to make the contributions available to third parties for the purpose of providing information about the f@imp festival and to have them edited and distributed online.
The Festival 2020 and the festival 2021 common award ceremony, combined with a conference, is planned as a hybrid event (physical and online) for November, 2021 at the Hungarian National Museum in Budapest. The entire program can be found on the festival website faimpavicom.org and also on the AVICOM website avicom.mini.icom.museum.
You are invited to join us, even if you don't submit an entry. As always, the festival will be exciting and varied with many interesting and inspiring contributions and speakers.
For queries please contact:
Ildikó Fejes, Treasurer of AVICOM