Kit Informatique
Marie-Françoise DELVAL, Member of the ICOM Executive Council
Kit Informatique for use by ICOM Committees
I created a "Kit Informatique" to allow the ICOM committees with modest resources, but also for those having a basic knowledge of the existing and functional software for work by computer, to discover them and to use them to improve their work.
This "Kit Informatique" is in CD format and gathers a set of open and free software. The selected software are all downloadable and free; the user can install them and use them without any restriction, for private use, educational use, or non-profit use.
The first version of the "Kit Informatique" is in French, as well as most of the suggested software.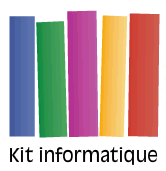 It is accompanied by an explanatory booklet of each program. The second phase will be in Spanish, and the English version will be the last.
The French version of the "Kit Informatique" CD, will be sent to you following your written request (letter or e-mail).