Introduction of FIAMP.2008 in Canada
Archives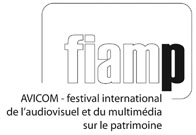 FIAMP.2008
Gatineau-Ottawa, Canada, October 16 – 17, 2008
Fiamp.2008 in Canada!
Université du Québec en Outaouais
Cybermuseology: A Contemporary Practice by Museums
Come celebrate the new technologies and innovation in the museum industry worldwide! The National Capital Region of Canada will host the 2008 edition of the Festival International de l'Audiovisuel & du Multimédia sur le Patrimoine (Fiamp).
The recognition of excellence in the areas of Internet, multimedia and audiovisual sectors.
Attend the awards ceremony for the best cybermuseum projects directed and produced by museums and heritage and cultural institutions around the world.
An international meeting
Fiamp is organized by AVICOM, the ICOM International Committee for Audiovisual and New Technologies of Image and Sound.
The symposium on new technologies and innovation
Within the framework of the Cybermuseology: A Contemporary Practice by Museums, come discuss new technologies that enhance the heritage of today and tomorrow. Meet professionals from all over the world come to discuss and debate the most innovative projects as part of this unique event.
Competition
Registration for the competition is closed. The projects that were submitted are currently being evaluated by the jury.
Registration for the Festival (and Conference Activities)
Discover the Fiamp.2008 program and sign up now.
Download the registration form.
Call for Papers
The call for papers has been completed.
FIAMP.2008 Partners
Ministère du Patrimoine canadien – Réseau canadien d'information sur le patrimoine (RCIP)
Université du Québec en Outaouais – UQO – École multidisciplinaire de l'image (ÉMI)
Idéeclic