Fiamp.2006 Trophies
Archives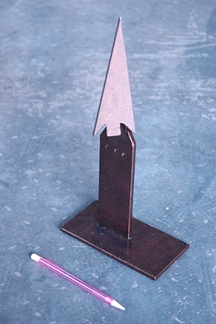 FIAMP.2006
Musée national de la Marine in Paris, December 12-14, 2006
The Fiamp.2006 trophies were created by the Moroccan artist Mustapha CHADID.
Weighing 1 kg and 25 cm in height, the trophy is in rough metal with a copper finish.
The inspiration for the piece was the computer cursor, which seeks, shows, selects, and reveals.The cursor also recalls the shape of the bell-towers of Vienna, the Town of Culture that welcomed the 21st General Conference of the International Council of Museums during which the AVICOM Awards Ceremony for Fiamp.2006 took place.
For more information: (PDF)