Message from the President: September 28, 2011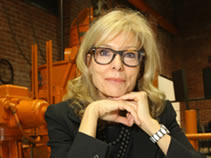 Montreal, September 28, 2011
Welcome to the new AVICOM site
Heavily influenced by the ICOM branding, our site will be in constant evolution. Over time you will draw valuable information on the activities of AVICOM and the state of our research. You will be able to peruse many photographs that help describe the atmosphere in our scientific meetings and perhaps incite you to join us. The new website also aims to promote new publications, and to announce the various activities of the committee.
I invite you to visit the Technologies section of the site in order for you to provide us with information about your projects. Be it the development of innovative technologies, virtual museums, websites, the creation of mobile applications, audiovisual projects, kiosks, social networks, or the production of DVD-Roms or CD-Roms, we are open to your suggestions.
The next FIAMP
The annual meeting of AVICOM and the festival associated with it will be held in Montreal on the 9, 10, 11 and 12 of October, 2012. All those interested in the topic of the development of new technologies and the emergences of new museology professions are invited to send a description of their proposed conference in a short text of 250 words.
At the same time of the annual meeting that the FIAMP festival will take off after a short break in 2011. Visit our website regularly to be informed when you can send your audiovisual and digital works. The registration forms will be available on the site shortly and will give you all the details about the processing of the applications for the competition, registration details for the conference as well as the call for papers.
Rio de Janeiro in 2013, call for nominations for the organization of FIAMP and the annual conference.
As the organization of a conference and a festival takes considerable time, it gives me the pleasure to invite you to apply for the organization of the major annual conference that wiull take place in 2013. The document that you will send me should contain the following information:
The reasons for your interest in the conference
An outline of the theme you want to explore
The financial and human resources which will benefit you in the organization of the meeting and the festival
The deadline for applications is December 19, 2011. The decisions will be revealed as soon as January 15, 2012.
Social Media
To give members a voice, AVICOM has launched its activities in various social media like Facebook, Twitter and LinkedIn. Please feel free to share your points of interest.
The benefits of being a member of AVICOM
As an institutional member, you can promote your museum on the new AVICOM site. Please contact Julie Lapalme for more information.
Manon Blanchette, Ph.D.
AVICOM President